If you live in Belleville you know that there is very high water table, so most of the homes are built on crawlspaces because of that. We've done a lot of jobs in Belleville and the majority of the homes we inspect in this area have extreme moisture issues that tend to cause mold, mildew and rotted wood.
This particular home was located on Quirk Rd. in Belleville, and their crawlspace was extremely wet and moldy. Adding to the concern was the fact that the homeowner was on oxygen and struggling to breathe. Having to deal with mold particles in the air only made things worse.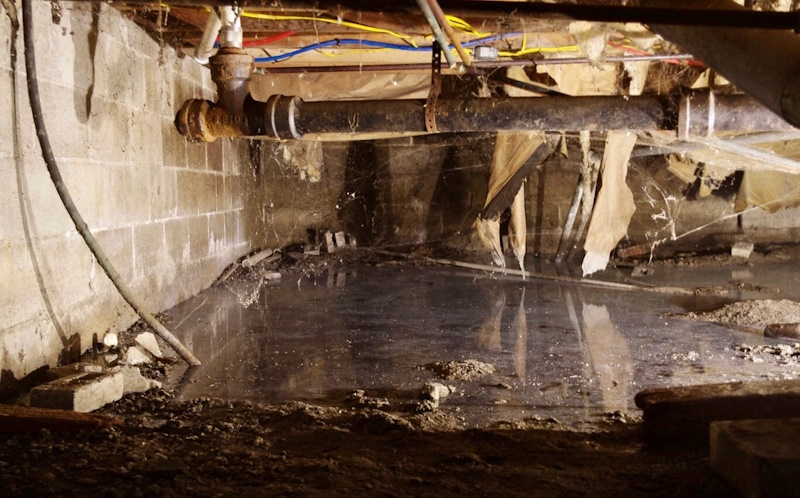 We came out to the house and inspected the crawlspace and as you can see from the pictures it was in rough shape, with a lot of moisture that needed to be addressed.
Due to the dark, damp conditions typically found in most crawlspaces, you're always going to be fighting with mold and mildew. Mold can be dangerous, causing respiratory problems particularly in children, elderly and immuno-compromised individuals. It's also not at all uncommon to see mold as a contributing cause of sinus infections, allergies and other symptoms. It can cause all sorts of nasty problems.
As warm air rises, cool air from the crawlspace is sucked into the living areas of your home. This is called the "stack effect", it's the same way a chimney works. This, combined with other factors, means a significant amount of the air you breathe actually came from your crawlspace. Additionally, if your crawlspace has too much moisture in it, the wood that supports your home will begin to rot, causing structural problems.
By reducing moisture, soil gases, mold, mildew and improving the overall air quality in your crawlspace, the air you breathe in your home will be cleaner and healthier.
To solve these problems, we first removed the standing water from the crawlspace and then began the process of encapsulating the space to prevent the recurrence of the moisture. This encapsulation process involves installing a moisture barrier which forms a seal between the ground where moisture is present, and the crawlspace and underside of your home. We sealed and insulated the bond/rim joist as well, to ensure the full crawlspace was sealed from moisture that could potentially creep back in.
Consider the benefits of Crawlspace Encapsulation:
Reduction of smell - no more musty smells coming up from your crawlspace
Air quality - it's not just the smell that goes away, but the allergens, mold and other nasty particles that are reduced or eliminated
Energy savings - insulation of the crawlspace leads to reduced energy costsof 20-40%
Moisture reduction - destructive moisture that can cause wood to rot and damage to your foundation is reduced or eliminated
Soil gasses - radon is a silent killer and there are other gasses as well that are reduced or eliminated from entering the home once encapsulation of the crawlspace is complete
Extra storage - with the water gone, you now have additional storage space and it's easier to access for maintenance
Back to this home on Quirk Rd, we also installed a sump pump in the crawlspace to ensure proper drainage of the water that tries to creep into the crawlspace from below and surrounding the home. Our sump pumps include 24/7 monitoring so you can ensure it's always working down below to keep your home moisture free.
Two months after we finished this crawlspace encapsulation job in Belleville, the owner called to tell us that he is breathing much better, and thanked use for the help! This is exactly the sort of outcome we work for and it's rewarding for us to be able to provide this service to our customers!