In most of southeast Michigan, the soil is clay. Clay is the most expansive soil there is. When clay becomes saturated it can exert excessive lateral pressure to basement walls, eventually compromising the structural integrity of a foundation. It is very important to make sure that water is diverted away from the foundation of your home. Ensuring that you have properly working downspouts and grading the soil away from your home will help keep this from happening, but it may not be enough.
This particular home was located on Hollywood Dr. in Ypsilanti and the rear basement wall was deflecting inward 9". A deflection in a wall is also known as bowing, or bulging, and it's a sign that your foundation is compromised. This sort of problem gets worse over time so it's important to address it as soon as possible. Fortunately, the homeowner called us to come take a look and we were able to put a plan together quickly.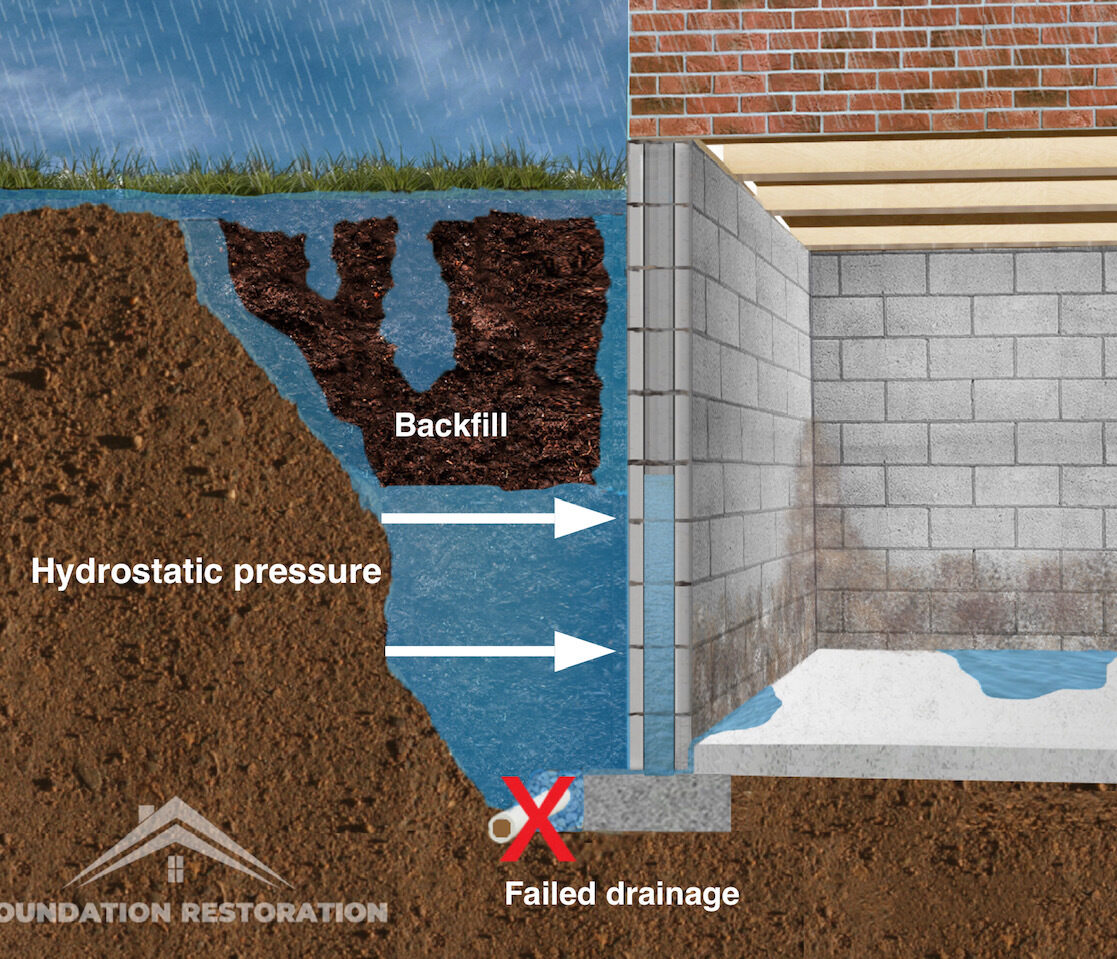 We came out to the property, and as you can see from the photos there was a noticeable deflection in the walls. With the clay content in the soil and the condition of the walls, it was only a matter of time before the wall collapsed.
Foundations that are constructed in clay soil that are high in clay content have the most potential for foundation issues. Clay is the most expansive soil there is and when exposed to large amounts of water, the clay soil becomes saturated and will expand and begin to swell. This shifting will eventually affect your foundation and potentially cause structural problems. Often, when the original basement waterproofing system has failed, the soil will hold more water. Not only does this cause the soil to expand, but the weight of the water can be more pressure than a basement wall can take.
To solve this, we dug a trench around the perimeter of the home and installed earth anchors to stabilize the foundation wall. The earth anchors provide a form of active resistance and with tightening has the ability to move the position of the deflected walls back in place. Depending on the level of severity, this process can have little to no disruption to you home or property and is a permanent solution.
With the foundation walls exposed, we then began the process of sealing and waterproofing the entire foundation to reduce the possibility of additional problems elsewhere in the future. After this process was completed, the wall deflection was reverted and the rest of the foundation was stable and secure. This home will now be able to withstand the various weather and soil conditions that challenges Michigan homes for many years to come.
If you think you may have an issue with the foundation of your home just give us a call at 877-625-3379 for a free estimate. Or fill out our contact form and we'll come take a look at no charge to you.