As warm air rises, cool air from the crawlspace is sucked into the living areas of your home. This is called the "stack effect", similar to the way a chimney works. This, combined with other factors, means a significant amount of the air you breathe actually came from your crawlspace. By reducing moisture, soil gases, mold, mildew and improving the overall air quality in your crawlspace, the air you breathe in your home will be cleaner and healthier.
If a crawlspace is untreated and takes water damage over time, the moisture will allow mold to grow extensively. Molds produce allergens, irritants, and potentially toxic substances. Without moisture, mold will be unable to grow to harmful levels.
This home was located in Detroit Beach, a neighborhood in Monroe. and the homeowner had requested that we perform a crawlspace encampsulation and install a drainage system.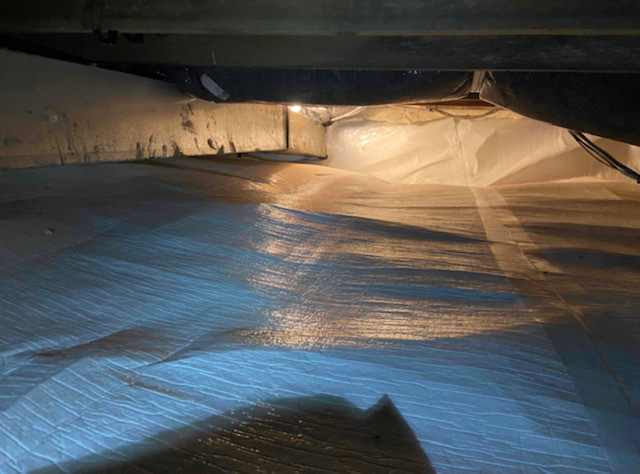 Compared to homes in other Michigan counties, Monroe County is an area of Michigan that has a moderate flood risk. With this risk comes more of a day-to-day worry of damage and water entry to you home. More about Monroe's flood risk can be found here. Along with this, we know that rainfall will seek the lowest point of your property which is often the ground in your crawlspace. Even with the proper grading and gutter systems, water can find its way in.
Due to this we knew that the crawlspace encapsulation would need to be able to withstand high water levels that would occur often and not allow any moisutre to contaminate the crawlspace. With Mositure Shield technology and Wall Shield Insulation, the encapsulation process ensures that your crawlspace will be waterproofed efficiently and eliminate risk of water damage in your crawlspace. The pictures above show the completed job and a clean crawlspace, providing a space that would allow cleaner air to continuously flow throughout the home.
Some time after we had performed the encapsulation, the neighborhood had experienced a flood as seen in the pictures below. Not only the customer's house but the entire neighborhood had temporarily gone underwater, yet throughout all of this the newly encapsulated crawlspace stayed completely dry.
If you want to make sure you're prepared for the worst then call Foundation Restoration today at 877-625-3379 for a free estimate. Or fill out our contact form and we'll come take a look at no charge to you.